Are we guaranteed a DJ on the day of our event? 
A written agreement (contract) with your specific terms protects you from unscrupulous operators.
How many years of experience do you have?
Experience brings knowledge of common problems and situations. Be sure your DJ has experience with your type of event. Ask for referrals and look for online reviews.
May we contact your references?
References are a major party of the entertainment business. This helps clarify the significance about the service.
Do you belong to any professional associations or trade groups?
An involved business shows a willingness to learn, network, and share ideas. Belonging to a professional trade group reflects a caring attitude and respect.
This is your event and your special requests should be welcome. If a song seems inappropriate, a good DJ service will explain the reason(s) and ask, or suggest, an alternative.
How early will you be there to set up?
An average of 90-120 minutes should be allowed for set up(s) and sound and lighting check. Normally there is no additional charge for this and should be part of the entire service. Travel should also be part of the entire service.
How will the DJ be dressed?
Proper attire reflects a positive image to your guests. The DJ should be dressed in formal wear, unless the client requests differently. If you have theme wedding DJ will dress for your them wedding or event.
Insurance is a part of any legitimate business. Liability and casualty policies protect yourself, your guests, and the DJ company.
Do you use professional gear (equipment)?
Using professional sound and lighting equipment helps insure a reliable service and quality presentation.
Will you provide an emergency back-up system at our event?
Weddings, Bar Bat Mitzvahs, birthdays, and special events are often a once in a lifetime opportunity. A back-up system protects your investment.
Hiring a DJ – It's the Music they'll remember
All of the planning is now behind you. You've made the walk down the aisle, proclaimed your love, and exchanged glistening gold wedding bands. Congratulations, you are now man and wife. Now it's time to kick back, unwind, forget all the stress and celebrate the day at your reception. What to Expect First, the photographer may want to take a few more pictures at the church or wedding site. After that, it's off to be greeted by family and friends who have come together for your wedding day. Don't be surprised to receive an enthusiastic welcome as your DJ and Master of Ceremonies announces your grand entrance. It's one of the things they enjoy the most. And for the next few hours it will be your DJ's job to lead the festivities, play the music that is important to you and your guests, and keep the reception running smoothly. Music is in fact one of the most important and memorable parts of a reception. Reception guests seldom remember the color of the linen, or even the cake, but they almost always remember the music, especially if the DJ did a great job.
Who coordinates the reception?
The main reason wedding couples choose a Professional DJ with many years of wedding experience as opposed to lower cost DJ Services is that the selection of music a Professional DJ can play spans across all ages and tastes instead of just what the lower cost DJ likes to listen to. But aside from the music, your DJ will also act as your Master of Ceremonies to help maintain the proper flow during the reception. A good Disc Jockey Service will coordinate with your photographer to get all the right pictures for your
wedding album. They will also work with the rest of the professionals (Videographer, Banquet Staff) during your event to ensure everything runs smoothly. So while you may be thinking of hiring a DJ just for the music, remember at your personal meeting with your DJ & Master of Ceremonies, it is important to discuss not only the types of music you want, but which events you will be doing and their desired order. These would include such things as the cutting of the wedding cake, the toast, and the bouquet toss. A Professional DJ will also work with you on individualizing your wedding at this time. Your DJ should want to know what exactly you envision for your wedding. One couple may want a low-key elegant event, while the next may want a high energy party atmosphere. If your DJ wants to tell you how your event will run instead of the other way around, then they actually are not interested in working with you. Every wedding is unique and your DJ should treat them as such.
Having a DJ you can trust to handle all the MC duties is important, but where most DJ's really shine is when it comes to knowing what music will get the crowd on the dance floor. Your DJ should work with you both on the types of music that you want played but also on the types of music that you don't want played. As a general rule, the guest will not dance until after the bride and groom have had their first dance. Other special dances might include a wedding party dance, a dance for the bride and father and one for the groom and his mother. How do you know the DJ that you are looking at entrusting your event's fate to is a professional? Look to see if they are a member of a Professional Organization such as a DJ Network Ask them how many weddings they perform at each year and how long they have been in the business Ask if they will handle all of the detail coordination on your wedding day (Making sure the champagne toast is poured before introductions, ensuring the parents of the bride & groom are available during cake cutting, coordinating with photographer and banquet staff, etc.) Proper planning for your reception should also include giving your DJ a guideline of the types of music that you want to be played. Keep in mind that you want all your guests to be satisfied, so make sure your DJ is prepared with a wide variety of music to suit all tastes. Just remember that your wedding day is a time to celebrate, so dance, enjoy yourself and leave the coordination to a wedding professional.
Have a different question?
Chill-Will DJ Service
Established 1980
Proudly Serving Southwest
Lee, Collier, and Charlotte Counties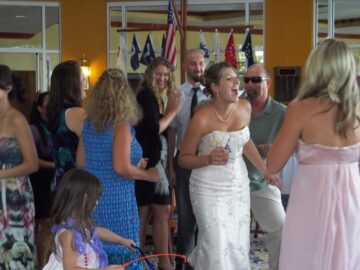 Chill-Will DJ Service Serving
Naples, FT.Myers, Cape Coral, Bonita Springs, Sanibel Island, Captive and North Captive Island, Port Charlotte, Fort Myers Beach, Boca Grande, North Port and Venice Florida
About Chillwill DJs
Bill Pelosi/DJ Director of Music
2119 Northeast 19th Place
Cape Coral 33909
Established in 1980